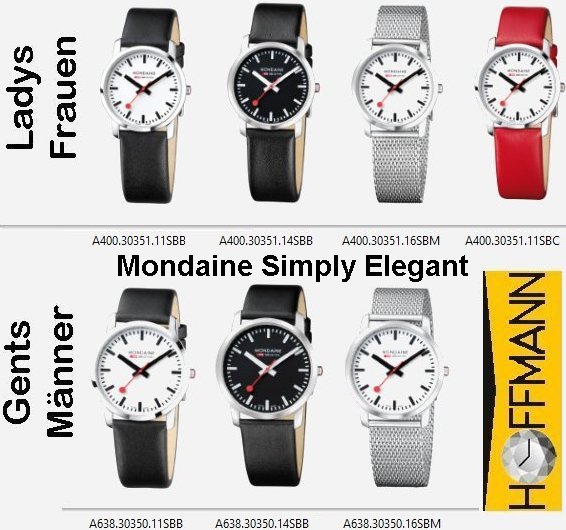 Mondaine Simply Elegant
Uhrmachermeister Ingbert Hoffmann, Brünnigstrasse 140, 6060 Sarnen, Tel: 041 660 86 00,
Anfahrtsplan, Access plan
Email:
ingbert.hoffmann@gmx.ch
,
www.hoffmannuhren.ch
,
AGB, General Terms and Conditions
,
Widerrufbelehrung, Revokation
UID: CHE-279.068.571,
Handelsregister-Nummer: CH-140.1.004.315-9
A400.30351.11SBB, A400.30351.11SBC, A400.30351.14SBB, A400.30351.16SBM, A638.30350.11SBB, A638.30350.14SBB, A638.30350.16SBM
The Simply Elegant collection is designed for people who love the Mondaine design, but want something more elegant and dressy, perfect for a day in the office or a night on the town. The Simply Elegant case is quite thin, only 6.2 mm high, and the specially designed lugs of the case allow the watch to adapt to any size wrist so the watch sits comfortably flat.
Die Simply Elegant Kollektion ist für Leute gedacht, die das Mondaine Design lieben, aber etwas eleganteres und dressy, perfekt für einen Tag im Büro oder eine Nacht in der Stadt. Das einfach elegante Gehäuse ist ganz dünn, nur 6,2 mm hoch, und die speziell gestalteten Laschen des Gehäuses erlauben es der Uhr, sich an jede Größe Handgelenk anzupassen, so dass die Uhr bequem flach sitzt.